Careers
At EncompassCare, we value our employees input and feedback in how we run our company.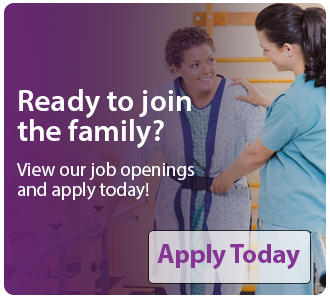 We do this by sharing our annual strategic plan and including staff in company decisions. We develop personal connections and put ideas into action through obtaining their insights via surveys and by meeting in person to hear from them directly. We also offer a rich benefits plan tailored to their priorities which, unlike most companies, still includes a match for our 401K plan as well as continuing education reimbursement.
As an in-house therapy program we offer outstanding opportunities:
Experience clinical support and mentoring
Clinical empowerment
Individual recognition
Advancement
Long-term job security and stability
Professional growth
We offer an excellent compensation/benefit package:
Competitive salaries
Health, vision and dental insurance
Life insurance
Section 125
401(k) with company match
Disability income protection
Competitive PTO package
Reimbursement for continuing education
Reimbursement for licensing fees
Leave of absence
Promotion from within
To view our open positions and apply, please click here or click on the "Apply Today" button above.